CROSS OCEAN SURFBOARD BAG 2001 (from archive)
Just one CROSS OCEAN surfboard case (CO case) can fit for all your surfboards. The CO case is fully adjustable and will therefore fit 4 of any size regular short boards, up to a 7'4″.
The CO case has the unique design of the combination of the soft cover and the ABS hard shell. An ABS plastic hard shell offers extra added strength for protection, and in-line skate wheels make for the easy maneuvering through busy airports. The soft cover contributes the lightness and handling of the CO case.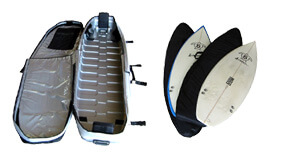 4 boards with 2 inner bags as the separator which come with CO case
Now you travel free from the hard work at airports with the CO case. This is great innovation for the traveling surfers.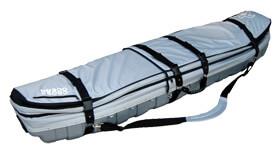 6'1″, 6'5″, 6'9″ and 7'2″ for Mentawai, 6'1″, 6'4″ and 6'8″ for Maldives…

Every travel surfer changes boards depending on the surf -spot and conditions. Unlike other surfboard travel bags, the CO case is adjustable and an ideal solution for destination surfers. The CO case fits your travel needs with an adjustable case to fit 4 of regular short surfboards lengths up to 7'4″ and the width is up to 19 1/4″ to be placed flat on the bottom of the case. The CO case folds to 4'2″ for easy storage at home or when you reach your travel destination.
CROSS OCEAN at ASR 2001 Trade Show
San Diego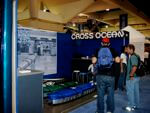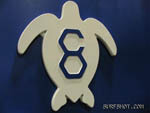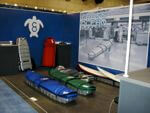 It comes with 2 inner bags, 2 fin bags (hold 4 sets of the thruster fins), extra cushion pads for the nose and tail, and the padded shoulder strap. And there is the zip pocket for the shoulder strap on the front of the cover and the big mesh pocket for the leash and rush guard on the back of the cover.
This is a great innovation for the world traveling surfers.
Spend your energy riding your boards not carrying them.
The case can be adjustable 5 length sizes between 5'7″ and 7'6″.




Two shells can be separated and folded to about the half size.
Patent Pending Made in Japan